Putting together a baby registry is like making a Christmas list for a total stranger.
A very tiny total stranger.
Who poops in his own clothing.
A stranger you've heard very lovely things about,
AND ALSO WHO IS COMING TO LIVE AT YOUR HOUSE,
but about whom you only know the most basic of details—
like that he's fond of being asleep (or might also be nocturnal), and that he will probably be VERY impressed by my boobs, and that he'll definitely need to be clothed.
THE END.
Given these very important considerations, the first thing that husband and I scanned to our baby registry was, naturally, a giant plaid felt stag head.
Because obviously.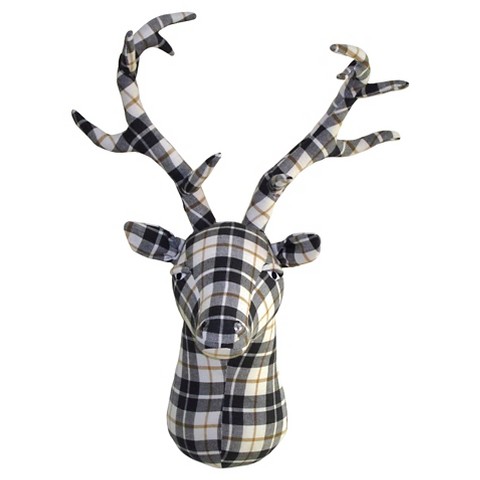 Technology has ADVANCED since our last foray into the world of registry creation, man.
Half a decade ago, when we were loading up our wedding registry, the customer service counter just handed us an actual scan gun & sent us off to scan responsible house-things.
(And, you know, the entirety of the candy section in the check-out at Bed Bath and Beyond.
WHICH WE TOTALLY GOT, P.S., AND IT WAS AWESOME.)
This time around, however, we were handed an iPod, along with instructions that we'd need to go ahead and create our registry on it before we got started scanning—
which was especially fun, because my email address is basically like typing out a short story.
And I got to tap every
single
damn
cursed
effing
letter
on that picky, itsy-bitsy screen.
Oh, and then the registry spontaneously decided that my last name was "Ashley Guest."
WHICH IT IS NOT
YOU JERK.
My biggest fear going in to the registering process was that we were going to wind up with a list full of nonsensical gibberish.
Y'all ever tried shopping a Target registry before, then you know exactlywhat I'm talking about.
Right in between the clear-as-day descriptions of Gerber 3-pack onesies and Munchkin bottle brushes, you get these little bursts of insanity, screaming at you like CIRCO 3-6MO BLUE/GRY BOY!!!! and ECOM BATH TOWEL CR MILLST?!?!
And then you're left standing there in the aisle, mystified as to what even a CR MILLST is and also WHY.
Perhaps sensing my fear, or that we had no business shopping for a tiny human—
you know, where others would beeline for important items like, say, tiny nail clippers and bottles, we're out there like OH MY GOD LOOK AT THIS MAGNIFICENT PLAID CREATURE, GET THAT—
our iPod/scanner promptly stopped scanning within 10 minutes of our registering journey.
AND WE WERE JUST ABOUT TO SCAN RESPONSIBLE THINGS, TOO.
Bless him but husband was valiant in his efforts to scan anyway.
First, he'd try the bar code on the shelf;
then, the bar code on the actual product or hang tag;
then, in a last-ditch effort, a different hang tag from the same item, just back further on the shelf.
Other methods we tried and failed included the (a) Pushing the Scan Button a Lot of Times method; (b) Scanning Something Random We Don't Actually Want, Just to See If It Still Doesn't Work method; and (c) Cursing At It method.
And every single time, the scanner would mock us with a few seconds of hope, acting like it might actually be working… only to abruptly crush our dreams by announcing THIS LABEL NOT RECOGNIZED IN THE SYSTEM.
Oh, really, Target scanner?
Because I FIND THIS VERY HARD TO BELIEVE.
Really, my favorite part of our whole baby-registering experience was when husband unceremoniously chucked the iPod down the aisle and declared, "F*CK THIS, I'M DONE."
Well played, husband.
Well played.
That said—
y'all ever seen the sort of sorcery you can find when you're shopping online for baby things?
BECAUSE WOW.
Wal-Mart, for example, apparently believes that sawing your boobs off is a crucial element of the "baby feeding" experience:
Also, this.
WTF, even, this?
And then you have this fabulous little invention, which apparently allows you to retract your kid if he dares escape the dinner table too soon.
RETURN, TINY SIR, AND FINISH YOUR PEAS
But, to be fair, there also exists such incredible sorcery as this ridiculously cool teething mitt, which basically just allows your kid to self-cannibalize his own hand:
Also, hello, hi, this nightlight apparatus is like a tennis ball and a bird made a bird-ball baby AND IT LIGHTS UP and just OMG:
Clearly, we're going at this whole "shopping for our kid" thing blind.
Like, happily blind—
ecstatically, "running-into-things-joyously" blind—
but blind, nonetheless.
So, tell me:
What were your first-year lifesavers with your tiny human?

I mean, we're talking FAVORITE THINGS OF LIFE status here;
the stuff you would've taken on a date to thank for existing because it wasthat amazing and made your life with the tiny human exceptionally lovelier.
TELL ME ALL THE THINGS.